All Resources
Cost of Deck Installation: How Much Does It Actually Cost?
Useable outdoor living space is more popular than ever, with many homeowners and prospective homebuyers citing it as a top desire. Installing a deck can not only fulfill this want, but the right deck can also add unrivaled style and function to a home. Moreover, it also offers an excellent return on investment—80%, according to The Remodeling Impact Report from the National Association of Realtors (NAR).
If you're wondering what that initial investment is, below, we break down how much a new deck costs and compare various types of decks and decking materials. Whether you want a deck to entertain, lounge, or simply add value to your home, we'll fill you in on everything you need to know to budget for this lucrative home renovation!
Average Deck Cost Per Square Foot
The average cost to build a deck is $20 – $50 per square foot. This includes both decking material and labor costs—with anywhere from half to two-thirds of the expense coming from the latter.
Opting for cheaper material, such as pressure-treated wood, can bring the price down to around $20 per square foot. Contrastingly, higher-end materials—exotic woods like tigerwood or hardwood like ipe, redwood, and mahogany—raise decking costs per square foot to $50+.
Average Cost to Build a Deck by Size
The national average deck price is $7,732, according to HomeAdvisor. However, this price can significantly increase or decrease depending on deck materials, foundation type, labor, add-ons, and deck size. Since deck projects are generally charged per square foot, looking specifically at the average price for various deck sizes will give you the best idea of cost—more square footage equals a more expensive deck.
Here is what to keep in mind when looking at prices for the deck sizes below:
Labor: The costs include a labor estimation, but this can drastically range depending on what state you live in. Try a deck cost calculator if you want a more precise deck cost quote that factors in your location.
Cost: Instead of just giving you one number, we've included a range. This is because deck materials largely impact the price. At the lower end are decks made with more economical materials, such as pressure-treated wood. At the higher end are more luxurious deck materials, like exotic woods and composite decking.
| | | |
| --- | --- | --- |
| Deck Size | Square Footage | Average Cost Range |
| 8' x 10' | 80 | $1,600 – $4,000 |
| 10' x 10' | 100 | $2,000 – $5,000 |
| 12' x 12' | 144 | $2,880 – $7,200 |
| 10' x 20' | 200 | $4,000 – $10,000 |
| 12' x 20' | 240 | $4,800 – $12,000 |
| 16' x 16' | 256 | $5,120 – $12,800 |
| 16' x 20' | 320 | $6,400 – $16,000 |
| 20' x 20' | 400 | $8,000 – $20,000 |
Labor Cost to Build a Deck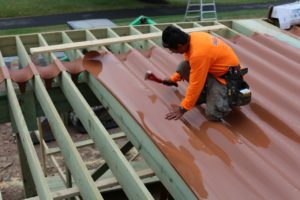 The labor cost to build a deck runs, on average, $15 – $35 per square foot. Deck materials that are easier to install, like cedar and bamboo, are cheaper. Heavy and inconsistent tigerwood will cost more on the other end of the spectrum.
Wondering how to find a good deck contractor? Try asking friends or members of your community for recommendations. In addition, you can double-check builders' reviews and ratings online on Yelp, Google reviews, the builder's social media pages, and the Better Business Bureau.
Material Costs for Deck Building
While many decking material options are available in today's market, they are generally broken down into two categories: wood decking and composite decking.
Composite Decking Cost
$10 – $20 per square foot (materials only) 
Composite decking is more expensive than the majority of wood decking. However, something to consider is that it also tends to last longer—30 to 50 years—which can save you repair and replacement costs down the road. Since composite materials are often made from recycled plastic like polyethylene and PVC, they never splinter or rot and come in a variety of colors. Plus, they require very little maintenance—mainly just a semi-annual deck cleaning.
Wood Decking Cost
$3 – $15 per square foot (materials only) 
Wood decking cost varies heavily depending on the type of wood used. Natural wood decks can be stained or painted any color, and some varieties like tigerwood have stunning natural variegation. However, most wood types will need regular maintenance to keep them looking their best.
Below are the average prices for some of the most popular deck woods.
Pressure Treated Wood – ($2 -$5 per sq. ft) A wood that is chemically treated to better withstand weathering, rot, and bug infestations. Must be maintained regularly.
Bamboo – ($3 -$6 per sq. ft) This cheaper wood won't break the bank, but it does require annual maintenance to keep it healthy and strong.
Cedar – ($4 -$8 per sq. ft) Comes in various grades and is often sold untreated to retain its natural ability to resist bugs and rot. This softwood dents easier than hardwoods and requires yearly maintenance, but it is very easy to stain and seal.
Redwood – ($7 – $9 per sq. ft) A domestic wood commonly used in decking due to its cheaper price point and that it doesn't warp easily. Maintenance is an absolute must as this wood is susceptible to sun damage and rot without proper care.
Ipe – ($10 – $15 per sq. ft) – This South American hardwood (pronounced ee-pay) is durable, heavy, and hard. It is one of the longest-lasting (and expensive) wood decking materials.
Tigerwood – ($6 -$15 per sq. ft) Another South American hardwood that is heavy and durable. The differing color and grain make it a visual delight; however, it can be challenging to install due to its inconsistent hardness.
Decking Prices by Foundation Type
While material and size are huge factors when determining a deck's cost, foundation type also plays into the equation.
Floating Decks
$20 – $60 per sq. ft
These decks generally cost three to five times more than standard ground-level decks. They are called floating or freestanding decks because they aren't attached to any building—a great option for those who don't have space for a deck directly beside their home.
Elevated Concrete Decks
$30 – $75 per sq. ft
Raised concrete decks are durable and weather-resistant. Additionally, they offer a contemporary aesthetic. Maintenance consists of hosing down or pressure washing.
Ground Decks
$10 – $20 per sq. ft
These decks are one of the cheapest options since they don't require posts, stairs, or railings. In addition, these tend to have easier accessibility than other decks since they are akin to a patio.
Costs if you Build a Deck Yourself vs. Hiring a Professional
If you have carpentry skills, undertaking a DIY deck project can save you half or more of a decking project's cost. The easiest decks to build are small foot decks and single-level decks. However, when it comes to more complex builds, such as second-story decks or floating decks, many homeowners feel hiring a deck builder or contractor is worthwhile.
Pro Tip: DIY builders who want to make their decks last as long as possible should consider protecting their deck with a sealer and sealing joists and fasteners with butyl tape. Failing to do so may mean that the initial money saved on your DIY (plus some) gets spent a few years down the line to repair water damage.
Any Additional Costs and Considerations
Permits – In most municipalities, you will need to secure a building permit to build a deck. These range anywhere from a couple hundred to a few thousand. Small towns tend to have cheaper permits, whereas big cities are the most expensive.
Lifespan – While woods like cedar and bamboo are initially the cheapest, they have a shorter lifespan than ipe, tigerwood, and composite deck boards. Therefore, longer-lasting options can save you in the future since your deck will have a longer lifespan (many even come with a warranty). Is higher-end decking not an option? Consider protecting your deck from mildew, warping, splintering, and other issues caused by moisture by applying Trex Protect deck flashing tape. It protects the joists and beams from moisture that can lead to wood rot and decay.
Upkeep – Maintaining a deck not only costs money, but it also costs time if you do it yourself. Therefore, you should carefully consider your decking materials before diving into your build. Cheaper materials tend to need more frequent maintenance.
Existing Deck – If you have an old deck that needs to be demolished, a deck contractor will charge extra to remove it—typically between $600 and $1000.
Add-Ons – When considering decking prices, don't forget to factor in add-ons when calculating the total cost for your deck project. Add-ons may include a pergola, hot tub, or creative under-deck additions. In addition, heaters or a fire pit can make chilly nights more enjoyable for an all-season deck. Want to go big? The Outdoor Living Trends Report by Fixr cites that outdoor kitchens are the most desired addition to outdoor living spaces.
How to Save Money on the Cost to Build a Deck
Do It Yourself: Cutting out labor can reduce the cost of building a deck by half or more. If you can't DIY the build, you can still save by demolishing your existing deck on your own.
Keep it Simple: Simple deck designs will cost less. But, if you're worried about it looking lackluster, remember that you can always decorate your deck and get creative with landscaping to give it flair and personality!
Get Multiple Quotes: When looking for a deck contractor, get quotes from multiple places before hiring. Just be cautious of quotes that are too good to be true—always check a company's reviews and references before making a final decision.
Build Off Season: This tip may not be for you if your home gets buried in snow. However, those with milder winters may be able to secure lower build prices since it is the off-season for contractors.
What Should I Do Before Estimating Deck Costs?
Read This Article: Check!
Pick a Type of Deck: Look at your outdoor space and see what type of deck fits best. For example, you may choose a raised concrete deck for its contemporary flair or a ground-level deck for its simplicity. Want to maximize your outdoor space? A multi-level deck may be for you.
Measure: Grab a measuring tape and measure where you want your deck to sit. Using painters' tape to frame where the deck will sit is a great visual aid when deciding on size.
FAQs on Cost of Deck installation
How much does it cost to build a 20×20 deck?
A 20 x 20 deck installation costs approximately $14,000 on average. Using more economical materials like bamboo or cedar deck boards can knock the price down. In contrast, high-end decking materials like composite decking will increase the price.
What is the average cost to build a 16 x 16 deck?
On average, it costs $9,000 to build a 16 x 16 deck. But, again, materials will largely dictate the price. On the lower end, you can pay as little as $5,120, while high-end materials shoot the cost up to $12,800 and beyond.
What is the cost of installing a deck around a pool?
The cost to install a deck around a pool is, on average, $20 per sq. ft. So expect to pay anywhere from $12 – $35 for every foot of railing needed.
How much does it cost to build a deck with stairs?
Adding stairs to a deck will cost an additional $150 – $300. This cost will vary depending on which decking material you use. However, on average, every step costs approximately $40.
A deck is a fantastic home improvement project to add both enjoyment and value to your home. Your new addition offers the perfect place to entertain, exercise, soak up some sun, or even spend a bit of alone time. After all, a well-built and properly maintained deck lasts 20+ years, so you will have plenty of time to invite friends and family over to enjoy your new build!